This Week's Comics 02/01/13
Happy New Year! My New Year's resolution is to use my Tumblr on a more regular basis. And what better way to get back on track than by discussing comics! 

This week from DC I have:

Batman Inc #6:
I love this series, I'm going to be sad when Morrison departs but this epic is moving along at a rapid pace with a billion ideas firing at once, as standard for Morrison's writing, but I love his style so this should be another issue of crazy brilliance!

Marvel:
Have we all stopped burning sticks and chasing a certain man with a pitchfork over a certain young gentleman from Queen's moved on to greener pastures last week? (I kid, I'm not angry at all about that - honest!) Great! Then let's talk about some of the things trickling out of the Marvel NOW! machine.

All-New X-Men #5:
I adore what Bendis is doing with this series. So far it's been 4/4 of surprisingly fast-paced brilliant issues with every plot line moving along at a rapid pace. I'm looking forward to the developments in this issue. Can Bendis make this a clean 5/5 issues of brilliance? I hope so!

Iron Man #5:
I'm going to make a separate post to discuss my problems with this book in more in-depth detail, but to make this brief, I'm not enjoying this title. Gillen as an Iron Man writer just doesn't sit right with me, something is missing from this book. Artistically, I've never had a resentment of Greg Land that others have often expressed but the old trace/same-facial expressions comments really flare up on this title and that doesn't help things. Suffice to say that even if this issue is the best thing since sliced bread, I'm pretty sure this is my last monthly issue of Iron Man. 

Morbius: The Living Vampire #1: Yes, I'm buying a book containing a vampire! The recent developments with this character in Amazing Spider-Man have really made Michael Morbius a very intriguing character and after the Point One particularly, my interest has piqued so I thought I'd be brave and give this a try! Plus the art in the preview was pretty if all else fails! 
New Avengers #1:
A little while ago a certain Mr Hickman took the bat from a certain Bendis and began his Avengers saga with a stunning debut issue. Can this standard be brought out over here? I hope so. Ideally I really shouldn't be picking up new titles at $3.99 but 1) It's the Illuminati 2) Hickman 3) Steve Epting. So there!

Ultimate Comics Spider-Man #19:
VENOM! New Venom? It's about time Miles Morales got his first proper villain to take on. This series has been gold since it started so here's hoping for more star quality writing from Bendis. If Venom isn't exciting enough, this features the grand return of Sara Pichelli on art duties - HOORAY! Don't get me wrong, the efforts of Marquez since Pichelli's departure to work on Spider-Men and whatever else she was doing, was brilliant, sometimes you wouldn't even think Pichelli left the title but there's just that feeling you get when you see her name on the book, the return of the Ultimate Comics Queen artist and all that jazz. 

Well overall I have a pretty small week but an exciting one minus one! I hope the first week of 2013 brings you all some pretty and decent comics. Happy New Year guys and girls! :) 
I'm reading the Uncanny X Force Otherworld issues. My eyes are bleeding from the horrendous artwork. I hate Greg Tocchinni's art with a passion!
Animal Man Swamp Thing #0
With today's comics I randomly bought Animal Man and Swamp Thing #0. Good or bad thing?
Can we fire Chris Bachalo and have Jorge Molina take his place permanently please? I like having artists who's work I can decipher easily and all that. Plus if I have to fork out $3.99 for a book that often double ships I want decent artists! Take heed Marvel!
Hey Guys and Gals! :)

I know I've been awfully silent the past few weeks and not making my usual appearances on here and MSN and whatnot (depending on your perception of me, this may be a good thing, you never know!), but personal events in my life in the past couple of weeks have meant I've been unable to have as much precious computer time with you as I'd like. But hopefully by tomorrow if all goes well I should be able to haunt you all and it'll be business as usual! 

Thank you for your patience/still following me!


Top Comic Stories: Day Eight: Punisher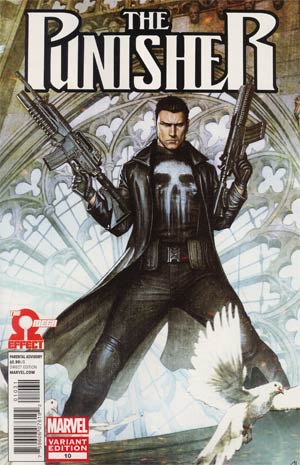 Art by Adi Granov

Category: Punisher
Story: The Punisher volume 1 by Greg Rucka
Writer: Greg Rucka
Artist: Marco Checchetto

When you think of characters to fear within the Marvel Universe, Punisher should most definitely come into the top 5 you think of. If he hasn't yet, then I strongly advise you read the first six issues of Greg Rucka's Punisher run and you'll see why.

Immediately from the first page, Greg Rucka automatically emphasises the assertion that the Punisher is one of the deadliest, most dangerous and terrifying vigilantes in the Marvel Universe. The most notable way Rucka conveys this is in the surprisingly short amount of dialogue, Punisher speaks through his violent actions rather than his voice, which makes for an incredible but equally scary spectacle. This run kicks off by the high profile massacre at the wedding of Rachel Cole and Doctor Alves, where Rachel's husband and the vast majority of her friends and family in attendance at the wedding are all horribly gunned down by the deadly Exchange organisation.

This sets the bar for the majority of Rucka's run on this title as a recovering Rachel Cole vows to avenge her loss whilst Punisher is also hot on the trail of the Exchange. Rucka also takes the time to introduce further supporting characters in the form of Daily Bugle's Nora and has two police detectives, who's investigations on the Exchange are hindered continuously by Punisher who's one step ahead.

Another chilling factor that makes this run so intriguing is the fact that there's minimal remorse in Punisher's character, Rucka emphasises that Frank Castle died the day his family were also gunned down, which I suppose makes it almost logical that Rachel and Punisher join forces. The symmetries between the characters are incredible, to the extent where Rucka presents us with an unofficial Lady Punisher.

Marco Checchetto does a brilliant job bringing Rucka's chilling but equally entertaining script to life as all the murders, fast-paced, action packed twists and turns are enhanced to violent perfection.

Overall, Rucka and Checchetto bring out a reader-friendly stunning debut volume of Punisher that I highly recommend to anyone out there who wants to start following the exploits of the Punisher without investing in masses of old graphic novels/past issues.  
Top Comic Stories: Day Seven: Wonder Woman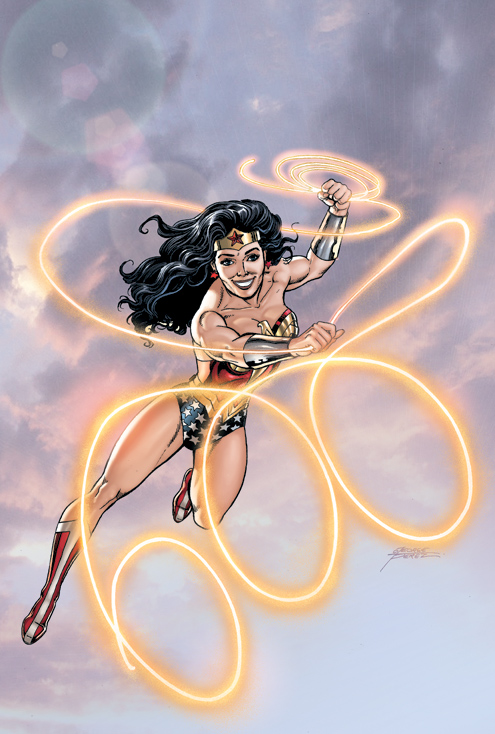 Art by George Perez

Category: Wonder Woman
Story: Wonder Woman Volume 1: Blood
Contains: Wonder Woman #1-6
Writer: Brian Azzarello
Artist: Cliff Chiang

When you think of Wonder Woman, you don't normally think of her as a character with a critically acclaimed heart-warming and intriguing series. In fact, most people would normally remember Wonder Woman more for her association with the Justice League rather than any of her storylines. Thankfully, the New 52 Reboot does everything in it's power under the pen of Brian Azzarello to rectify that. 
With the first six issues, Brian focusses heavily on Greek mythology and delivers a story of suspense, emotional, shocking, humour and captivating proportions. 

This run begins by shining the spotlight on a young woman named Zola, who's pregnant and needs Wonder Woman's protection from rampaging attackers. During this first confrontation, it's revealed that the father of Zola's child is none other than Zeus and the attackers were sent by Hera, Zeus' jealous wife. With so many revelations firing left, right and centre, this collection made for a fascinating read and within the space of 6 issues we were introduced to new versions of a plethora of characters, including Hermes, War, Strife, Apollo and all of them are made to be equally intriguing due to Azzarello's talent. 

This relaunch is aided just as much by the talented Cliff Chiang. Chiang succeeds in  bringing Azzarello's warrior-focussed Wonder Woman to life by drawing a beautiful warrior, the thick lined styles really match the Greek-style setting perfectly and Chiang completely avoids drawing the stereotypical 'barbie' Wonder Woman. The artist for #5 and #6, Tony Atkins is equally as good, although he struggles to draw facial expressions as well as Chiang can.

Overall this is an intriguing read and very new-reader friendly, however if you were to start this run with later issues I would heavily advise against it as Azzarello's in this for the long haul and his long-term plot lines may be harder to follow should you start later on.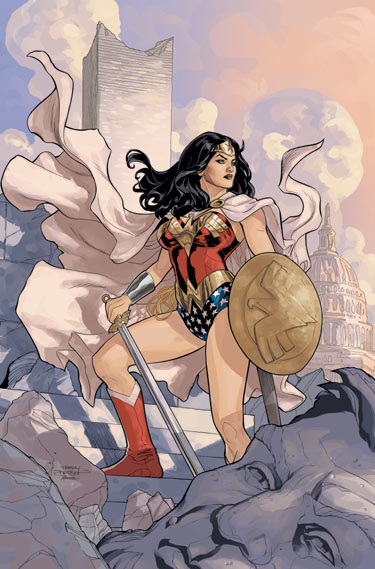 Art by Terry Dodson